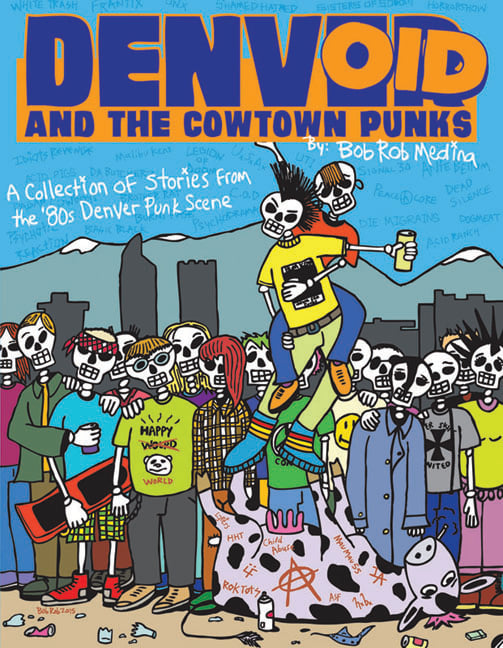 Denvoid and the Cowtown Punks
$

24.99


Sold Out
---
Book plus set of 5 post cards-Available only to Big Cartel customers
Bob Rob Medina's Denvoid and the Cowtown Punks -- A Collection of Stories From the '80s Denver Punk Scene is a unique and seminal kind of localized punk oral history, for it features over 100 vivid, hand-colored illustrations alongside flyers and other artifacts from the era. Eclectic, in-depth interviews with prominent scenesters range from musicians and culture jammers to reformed skinheads and business owners. Grassroots and outgoing, Medina examines the small window of opportunity in which they impacted cultural behaviors and musical styles at large, even reached a global network desiring to know more about the isolated frontier world that sprang Frantix and Bum Kon. Denvoid avoids lumping punk music and culture into narrow constraints or merely rehashing stories of three-chord, two-minute fiery songs. Instead, Medina highlights how creative people stretched or explored uncharted territories, including post-modern visual culture.

Medina is hardly an outsider sniffing around the periphery of Denver's rich underground music history. As a true blood Colorado native, Medina was deeply rooted in Denver's raucous scene: he joined numerous bands, masterminded fanzines aplenty, promoted key shows, and jumpstarted his fertile record label Donut Crew Records, which documented Denver's beloved underground bands.

To solidify Denvoid and the Cowtown Punks as a densely filled historical document, Medina enlisted author/college instructor David Ensminger: Visual Vitriol: The Street Art and Subcultures of the Punk and Hardcore Generation (Univ. Press of Mississippi, 2011), Mojo Hand: The Life and Music of Lightnin' Hopkins (Univ. of Texas Press, 2013), and Left of the Dial: Conversations with Punk Icons (PM Press, 2013) as editor. The book's design was handled by former Colorado transplant Sonny Kay, founder of GSL Records (The Locust, !!!), member of The VSS and Angel Hair, and creative director for Mars Volta guitarist Omar Rodriguez Lopez's production company.
"I just got my copy of Bob Rob Medina's new book, Denvoid and the Cowtown Punks. It's fucking amazing. Bob Rob conducted tons of interviews with people from the Denver punk scene of the '80s then added lots of his own incredible artwork, which makes the whole thing super vivid and eye-popping. Of course, there are also photos, flyers, and other bits of archival stuff sprinkled throughout. Bob Rob published this book himself, and it's such a labor of love, passion practically drips off the page. And the tone of the writing is perfect, a very funny and poignant and readable mix of fact and anecdote. Bob Rob's conversations are definitely nostalgic and fun, but he also sneaks in all kinds of insight and smart musical analysis. He doesn't white-wash shit either. It's an unvarnished, unflinching look at a time that was as violent and intolerant as it was creative and liberating." - Jason Heller
---